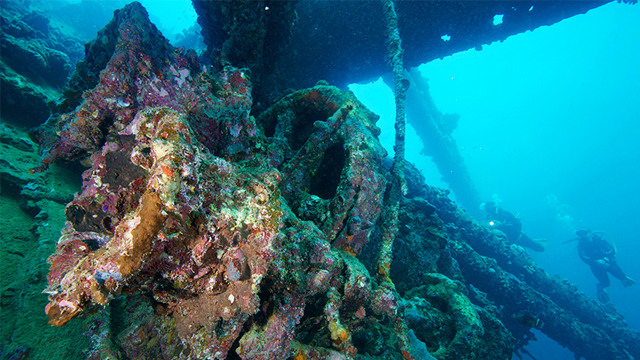 UMBRIA
The boat that became a reef
On June 10, 1940, the Umbria, a huge Italian battleship, went down in the Red Sea near Port Sudan. With the vessel 10,000 tons of ammunition, 300,000 bombs and air mines, military trucks, motorcycles and 50,000 Austrian silver coins sank to the bottom of the sea.

In 1949, underwater pioneer Hans Hass explored the wreck and documented the beginning growth of corals. Thirty years later he returned, filming the same positions again for comparison. The metamorphosis from wreck to reef was on its way.

Sixty years after the Umbria sank, Erich Proell, another living legend of underwater filming, visited the wreck that had meanwhile turned into a veritable reef.
Format one-off
Available versions Italian / French / English
Director Sabine Holzer, Erich Pröll
Authors Sabine Holzer, Erich Pröll
Producer ORF
Rights TV & Inflight / Worldwide except North America, German speaking Europe, UK & Irland