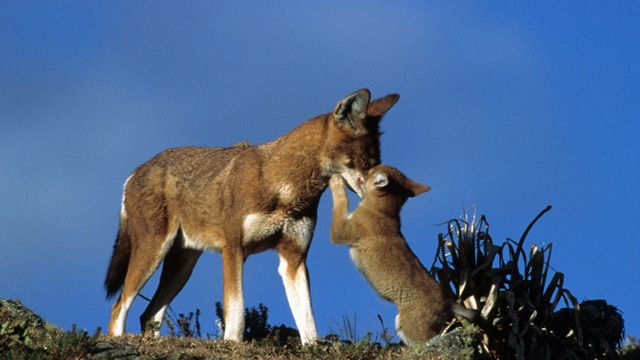 THE ABYSSINIAN SHE-WOLF
A dying species survival challenge
Despite their shrill howls, their fur like a fox's and their resemblance to jackals, Abyssinian wolves are close cousins to European, Asian and American grey wolves.

They are also by far the most endangered species on Earth with fewer than 500 still surviving on the high plateaux of Ethiopia.

Sanaté is a three year old female. Her mother chased her away from the family pack a year ago. Since then, Sanaté has been wandering alone, avoiding the other wolves' territories. But soon the need to reproduce will push her to try her chance at joining a pack again.

Through Sanaté's adventures, we discover the life struggle of these endangered abyssinian wolves.
Format one-off
Available versions Italian / French / English
Director Jean-Yves Collet
Author Jean-Yves Collet
Producer LEO PRODUCTIONS
Co-producer EII
Rights TV, Video & Inflight