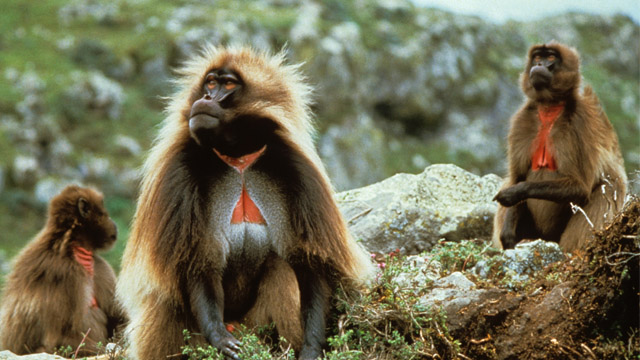 THE HAREM OF THE ETHIOPIAN BABOON
Fighting for reporduction
Near the dramatic cliffs of the high tablelands in southern Ethiopia, live the Gelada baboons. Recognizable by the double triangular patch of bare red skin on their chest, these magnificent monkeys have only one predator: man.

The geladas society is organized into harems on one side and groups of single males on the other. For "Broken Finger", like for all harem leaders, life would be easier without the gang of bachelors.

Indeed, these young males, banished by their fathers at puberty, have but one obsession: the females which they do not have. Not yet...
Format one-off
Available versions French / Arabic / English
Director Jean-Yves Collet, Antoine de Maximy
Authors Jean-Yves Collet, Antoine de Maximy
Rights All rights / Worldwide